Qinlock

works by helping to "limit the power" of certain tyrosine kinases

Imagine a power strip like one you have in your home. Let's pretend that the power strip is the tyrosine kinase protein in GIST cancer cells.

Each outlet is a site on the tyrosine kinase where a mutation might happen, when a gene like KIT or PDGFRα gets mutated.

When you have a mutation on one of these sites, it's like an outlet that's plugged in. That outlet powers GIST cancer cells to grow and spread.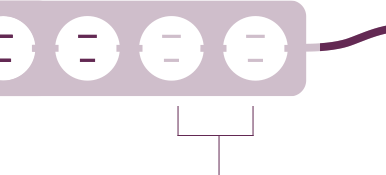 Qinlock

targets
2 outlets, or 2 key sites, of tyrosine kinases involved in GIST.

By targeting these 2 outlets, Qinlock limits the tyrosine kinase's ability to power GIST cancer cells to grow and spread.

Since mutations can happen on different outlets, targeting 2 outlets helps Qinlock target a range of mutations.
Sign up
For more information
Get updates about GIST, support resources,
and information about Qinlock.
Sign up
Insurance help
Trying to understand your insurance can be a big challenge. Deciphera AccessPoint™ is here to help you make sense of it and find out what help is available.
VISIT DECIPHERA ACCESSPOINT